Car Nation Canada Toy Drive event in support of McMaster Children's Hospital

We are happy to inform that we had a successful Toy Drive event.
The amount of toys that we received through this event was unbelievable and heartwarming.
We would like to personally thank all our customers and our staff for such a generous donation and making it possible for us to bring cheer to the kids and their families during the holiday season. 
We would like to thank McMaster Children's Ho
spital for giving us this wonderful opportunity!
Car Nation Canada Coat Drive event in support of Eva Rothwell Centre -2017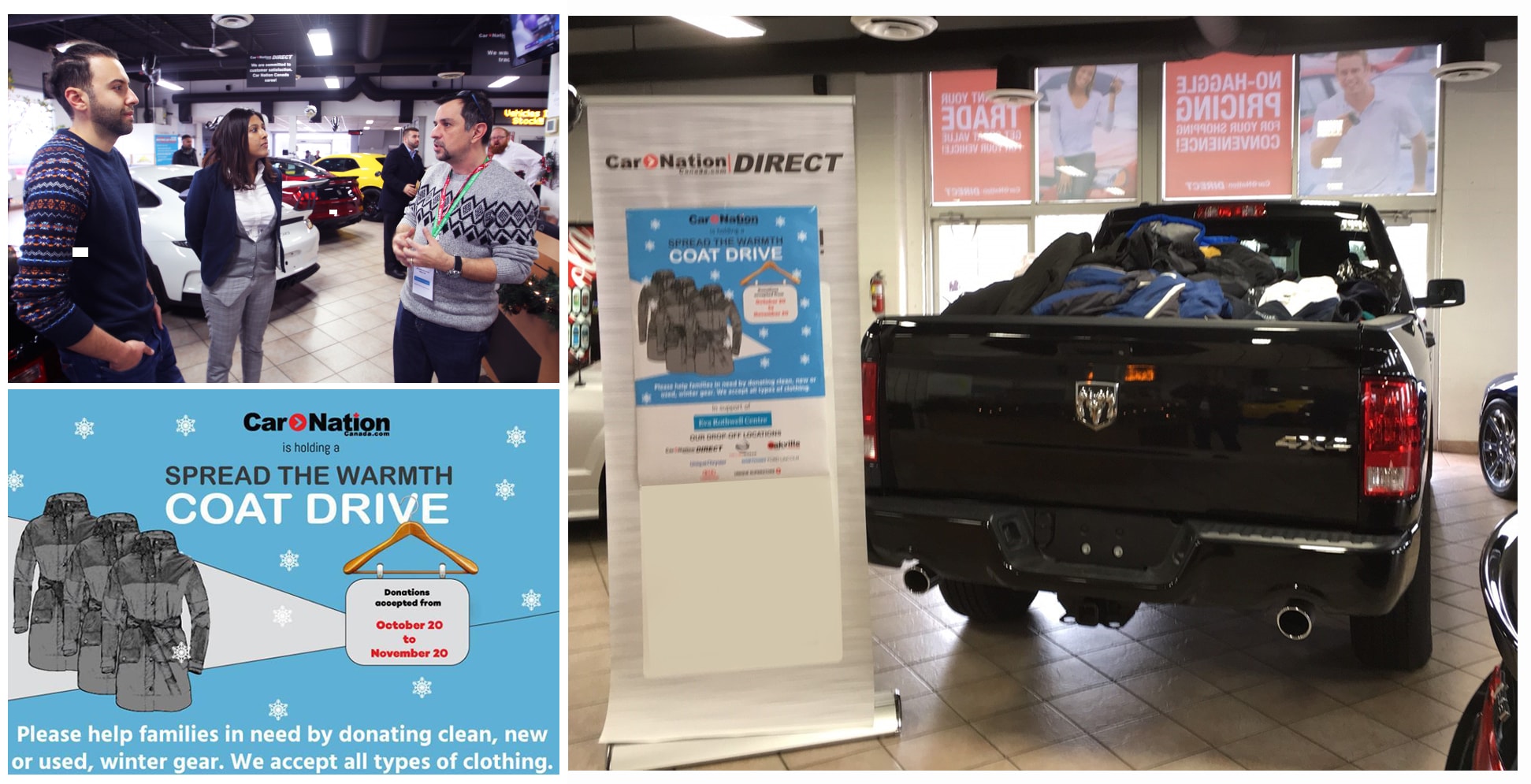 Car Nation Canada Coat Drive event had been a great success. We really were able to spread the warmth this holiday season. The donation for winter clothing that we received was overwhelming and we are happy to have them on time for families in need. Thank you Eva Rothwell Centre for providing this opportunity to support and make a difference in the community.
 About Eva Rothwell Centre, they strive to provide the resources and support needed for the betterment of the lives of our community members, as well as the skills and tools required for academic and professional success. Located in the heart of the Hamilton's North End, they are the one-stop-shop for community members in need of support and the necessary resources to lift themselves out of poverty. With their positive intervention and support,  we are able to help create a better tomorrow for the children and families in our community.
Car Nation Canada Wear it Pink campaign in support of Canadian Cancer Society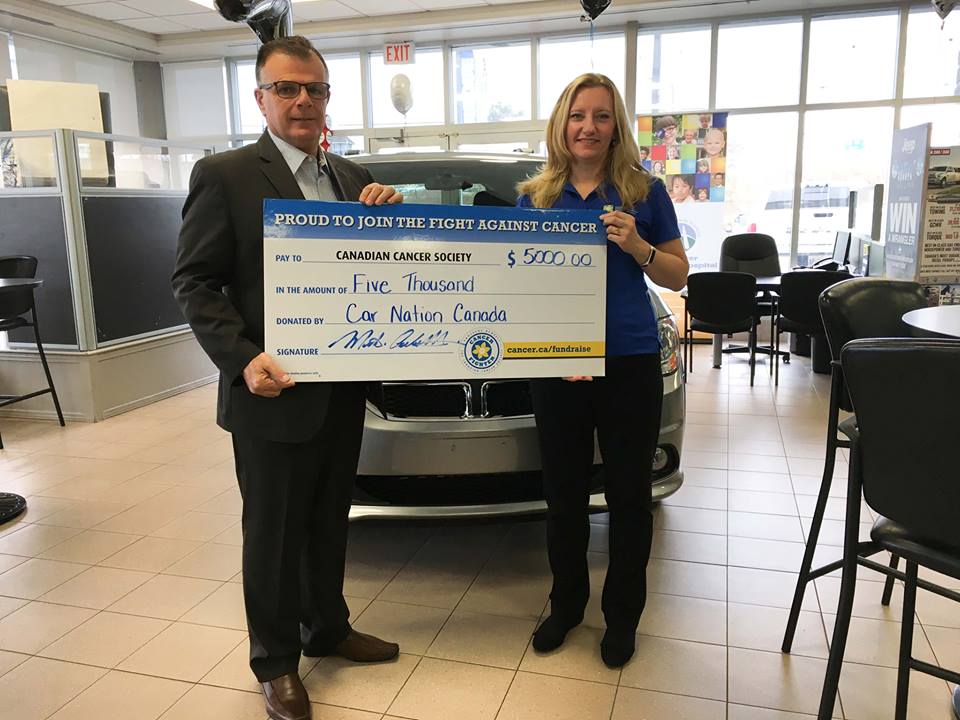 From the period of October 10- November 15, Car Nation Canada committed to $25 per sale of every car from the 7 Car Nation Canada dealerships. We are happy to announce that we are able to achieve our fund raising goal of $5,000. The contribution made will be going towards Canadian Cancer Society in support of breast cancer research and other important work. We would like to thank everyone for the incredible support. 
Car Nation Canada supports the Inside Ride Event 2017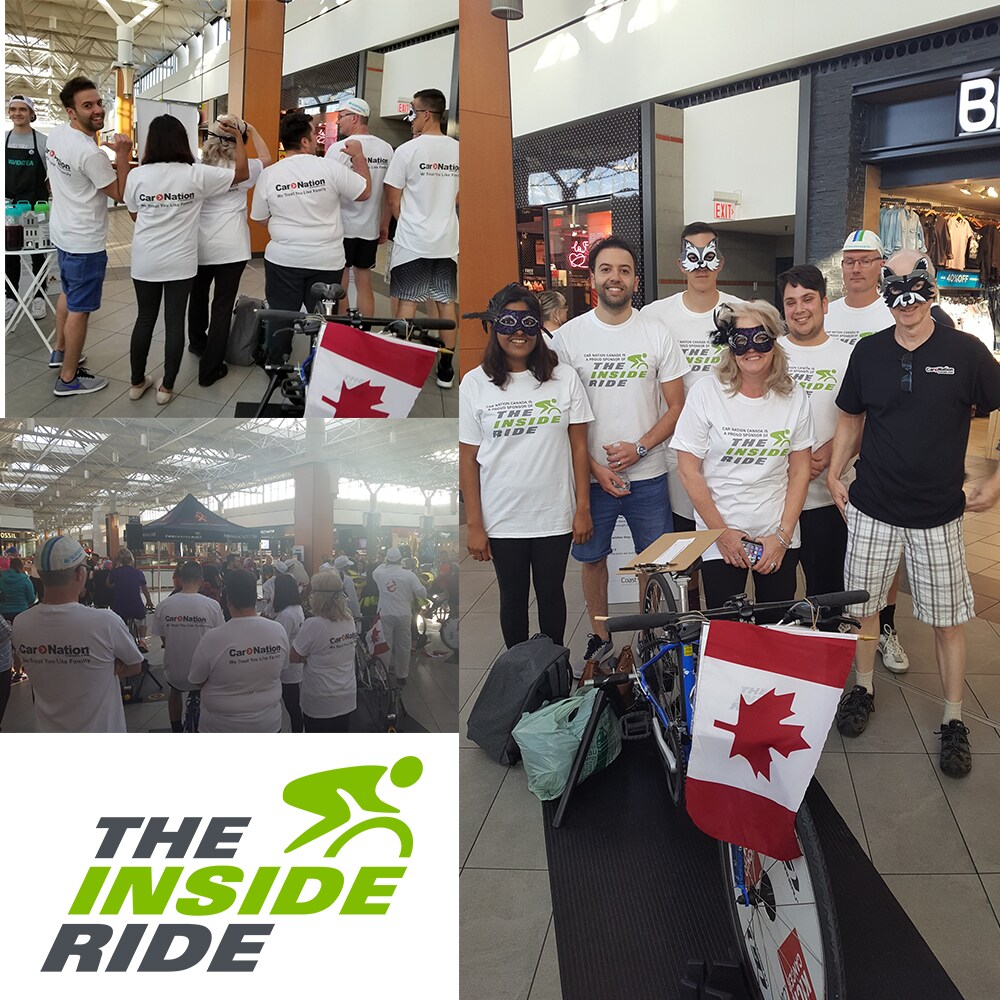 Inside Ride Event is presented by the Coast to Coast Against Cancer foundation and is Canada's first indoor cycling challenge and fundraising event dedicated to raising money in support of children with cancer and their families. Car Nation Canada has been supporting this initiative for more than 3 years now and continues to do that. Car Nation Canada showed their support by volunteering and sponsoring this noble cause. The money raised supports pediatric oncology initiatives at McMaster Children's Hospital. We are glad that the event helped in raising $20,000
Unique Chrysler Hosts Charity Car Wash To Raise Funds For Local Burlington Girl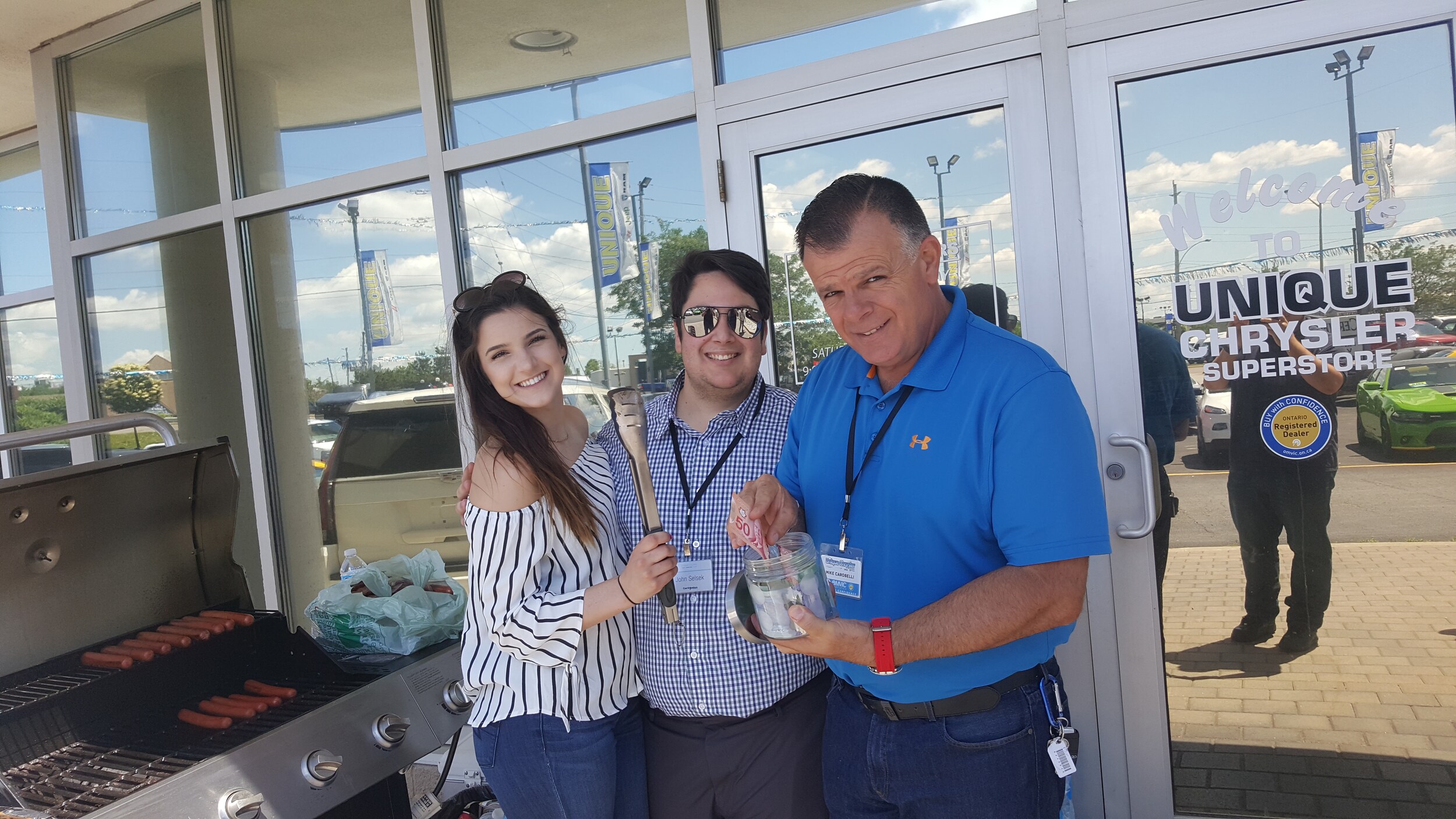 When you belong to a community, you should be there to support and help others in your community. That's what we believe at Unique Chrysler. This past Saturday, Unique Chrysler hosted a charity car wash to support Maddie, a local 4-year old girl who was born with Cystic Fibrosis and was recently diagnosed with Acute Lymphoblastic Leukemia. It is difficult to go through this at any age, and Maddie is courageously battling at such a young age. Unique Chrysler raised over $700 to support Maddie and her family. 
Unique Chrysler will also be at the Mad for Maddie Fundraiser & Block Party on July 8, and we encourage anyone in the Burlington area to come out for entertainment, refreshments, raffles and to support a member of your community. 
Car Nation Canada Unveils 20 New Transport Cars at McMaster Children's Hospital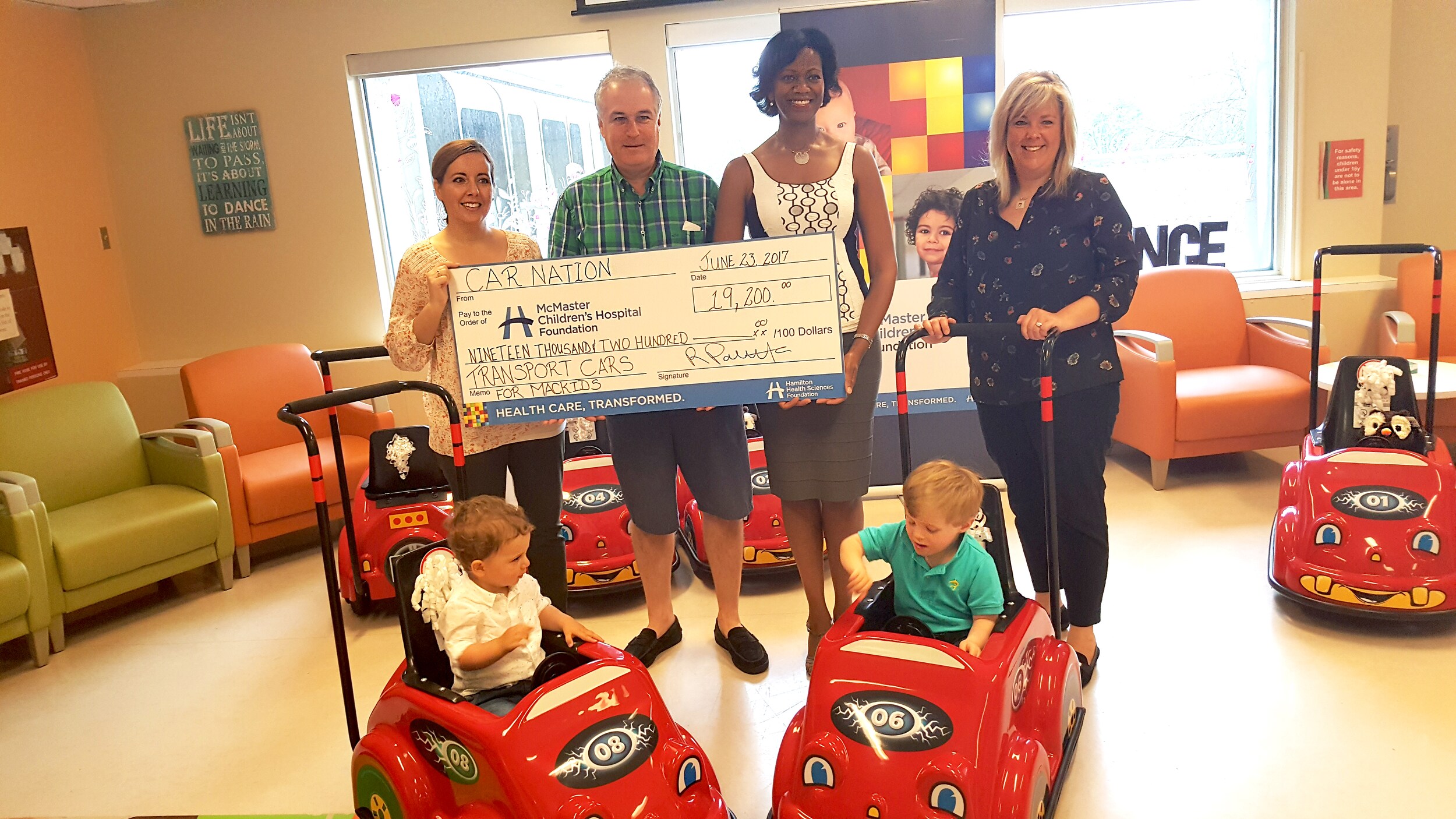 (Hamilton, ON) - The Paletta family and Jennifer Laughton, VP Development, unveil the 20 new transport cars at McMaster Children's Hospital. 
Last week, Rick and Michelle Paletta joined Jennifer Laughton, VP of Development, and unveiled 20 brand new hospital transport cars at McMaster Children's Hospital. These transport cars are highly coveted by hospital guests, as it makes movement within the hospital much easier for parents with very sick children. These transport cars were purchased with the $19,200 that was donated by the Paletta family and Car Nation Canada. 
As soon as the cars were unveiled, they were put to use right away. To go along with the transport cars, there will also be a new staging area for all unused cars beside the elevators, allowing families to easily find and use them. This will eliminate the need to search around the hospital for unused cars.
Follow us on social media for more pictures and charitable events here:
Car Nation Canada
Shares The Toys To Spread The Joy At McMaster Children's Hospital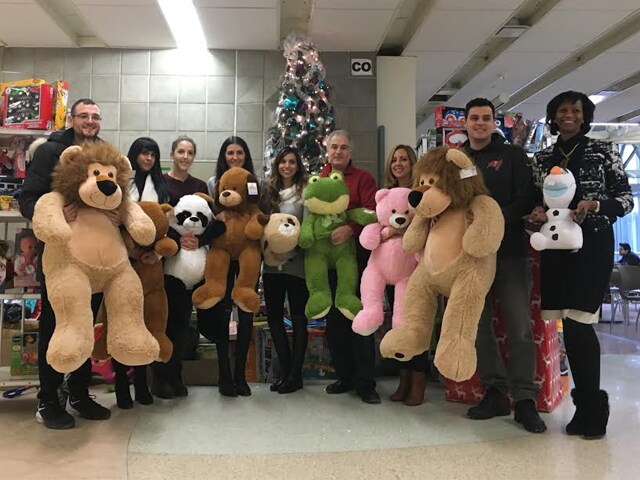 (Hamilton, ON) - The Paletta family and Jennifer Laughton, VP Development, McMaster Children's Hospital thank the community for your support in our holiday toy drive


When hospitals come to mind we often think of saddness, dread, and stress. However, Jennifer Laughton assures us that McMaster Children's Hospital is one of the happiness places around. It's filled with hope, faith, happiness and support from the families that are going through similar experiences.
The 1,000,000 square feet facilities is home to some of the greatest medical minds, innovation, and procedure techniques. It is also the busiest pediatric hospital in the area, just second to SickKid. It houses 165 medical beds and approximately 50,000 emergency visit annually providing care from newborns up to age 18! Although, these numbers may sound daunting, the hospital is highly specialized making McMaster Children's Hospital the primary provider of tertiary health care services for children in Hamilton and the surrounding region. 
There are so many great things happening within the walls of the hospitals but the real brave souls are the ones lying in the beds. Many patients will not be able to go home to their families or enjoy family dinners because they are undergoing various treatments. But, that does not mean they have to miss out on the spirit of Christmas! Santa will still be making a stop at McMaster Children's Hospital with all his toys.
This year
Car Nation Canada
delivered a truckload of toys to the hospital. These toys will be sorted and delivered to the children and their siblings on Christmas Eve in time for Christmas morning. When the children wake up, they will be surprised with gifts under their beds! We would like to thank the community for the toys which will help make the healing process for these children a little bit easier. As we learned, these are not toys of play but to the children they are a part of their healing experience.
Follow us on Social Media for more pictures and charitable events here:
Instagram
Twitter
Facebook
Team Unique Chrysler Spreading Extra Cheer and Thanks To Our Heroes At The Burlington Fire Department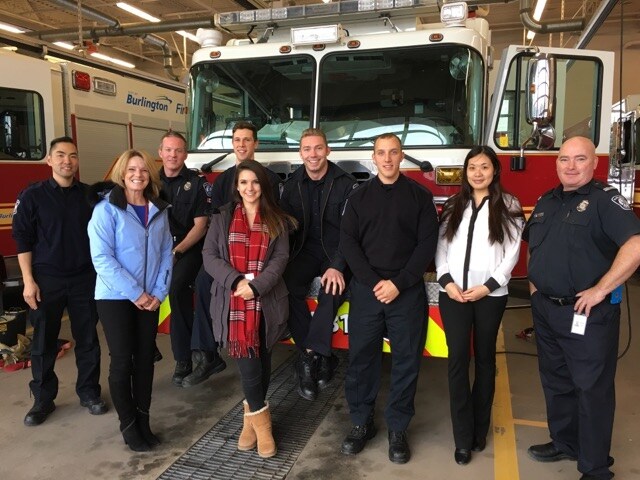 (Burlington, ON)- Some of the staff at Unique Chrysler took a field trip to thank our service men and women at the Burlington Fire Department
You don't have to have super powers to be a hero. Just take the team at the
Burlington Fire Department
; they are the unsung heroes in our community. With Christmas just around the corner, some of the serving men have to spend Christmas and the holidays away from their families to keep the community safe. The team here at Unique Chrysler want to thank everyone at the Burlington Fire Department for their commitment, dedication, and efforts to keeping us and our families sound and secure.
With turkeys in tow, some of the staff at Unique Chrysler headed down to the fire department to donate to the service men for their communal dinner. The Burlington Fire Department has been collecting for the Burlington Food Bank for the past few months. Instead of taking the turkeys for the fire department, the men and women will be donating the turkeys to the Burlington Food Bank. Thank you to the Burlington Food Bank for providing families with healthy, fresh, and nutritious food so that holiday dinners can be enjoyed during this festive season!

Follow Unique Chrysler on Social Media!
Twitter
Facebook
Instagram

Follow The Burlington Fire Department on Social Media!

Twitter
Facebook

Car Nation Canada Donates Funding To McMaster University For Breast Cancer Research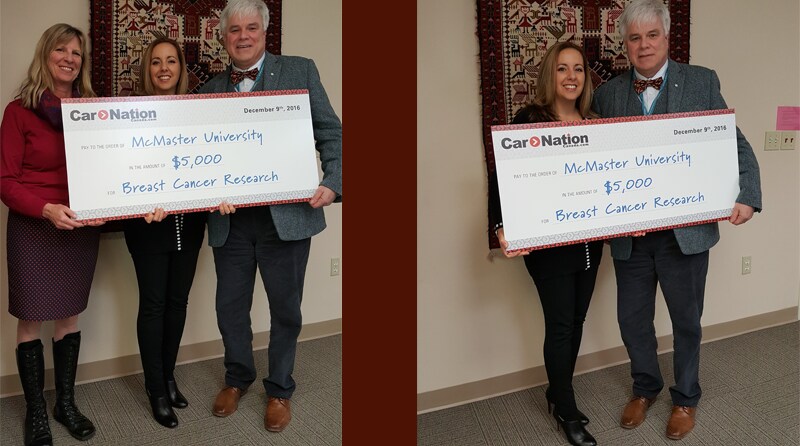 (Juravinksi Hospital - Hamilton, ON) Donation efforts will go towards innovative breast cancer research at
McMaster University
with Dr. Mark Levine
Breast cancer is a harrowing illness that is all too familiar. We either know someone going through the illness, been diagnosed, know a survivor or have conquered it ourselves. Whatever, the case may be, it's an illness that impacts thousands of lives. In 2016, 25,700 women were diagnosed with breast cancer.  While these numbers seem gloom, what we can rejoice about is the innovative research that happens in our city.
Hamilton is the hub for breakthrough health science research with academic institutions such as McMaster University, teaching and research hospitals under the Hamilton Health Sciences umbrella. In every institution, there is a superstar worth mentioning.
At McMaster, Dr. Mark Levine is seen by his patients and students as a superhero. You can find him running to labs picking up his patients' test instead of the usual lab runner. When he is not taking care of his patients, he spends a majority of his time as an active clinical trials investigator in the areas of breast cancer research and has performed research in quality of life, and breast-cancer decision making. He strongly believes in teaching and shaping young minds that come in and out of classrooms to champion the future of medicine and healthcare.
Car Nation Canada is extremely proud to be able to donate funds for the
Buffett Taylor Research Chair in Breast Cancer Research
in which Dr. Levine is a part of. It is wonderful and a true blessing to be able to support an incredible and progressive institution in our local community. To learn more about Dr. Levine's research,
click here
.
Remember, this holiday season you don't have to look very far to be grateful for what we have! Lastly, thank you to our customers who help us support our charitable events for the communities around us!

Share A Toy, Spread the Joy: Car Nation Canada Holiday Toy Drive to Benefit McMaster Children's Hospital Foundation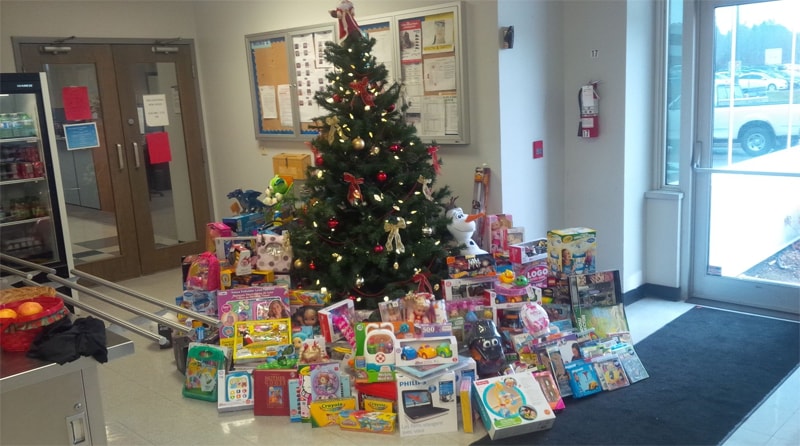 (HAMILTON,ON) Annual Toy Drive for MacKids.
PHOTO CRED:
McMaster Children's Hospital
The Holidays are about giving back and what other way to give back then to McMaster Children's Hospital? They are the leading medical institution specializing in pediatric medicine, located in Hamilton, ON. Often times, we see miracles happen in their rooms but it's not always all fun and smiles. Which is why this year, Car Nation Canada wants to make the holidays for these children a little brighter and fuller. There is nothing more touching and rewarding than to see a child's face light up with pure happiness. What better way to make them smile? Toys, of course! And lots of it!

This Holiday season, Car Nation Canada, a southwestern dealer group with 11 dealerships and sub-brands will be collecting toys to fill up a pick-up truck. From November 14 to Dec. 16, 2016, our dealerships will collecting toy donations. Our efforts will go directly to McMaster Children's Hospital Foundation and benefit the MacKids. How can you help brighten a child's holiday? It's as simple as visiting any one of Car Nation Canada's participating dealerships and dropping off toy donations. Remember, there is no package that is too small. Toys of all shapes, sizes and colours are welcomed! Dealerships that are collecting are listed below: 
What happens if I drop off my donations after Dec. 16? Not to worry.
McMaster Children's Hospital Foundation
is always accepting donations any time of year. Our goal is to be able to lift a child's spirits and bring laughter into their lives just in time for the holiday season - but this is important all year around. If you can't drop off your donations at any one of our dealerships in time. 
Thank you in advance and we look forward to making a child's spirits brighter!
_______________________________________________________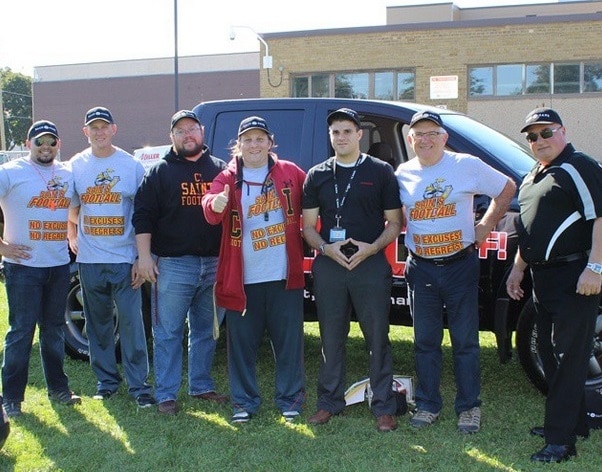 September 30 2014
- Collins Nissan is proud to support St. Catharines Collegiate in there up coming season with their Back in the Game Program and equipment donations.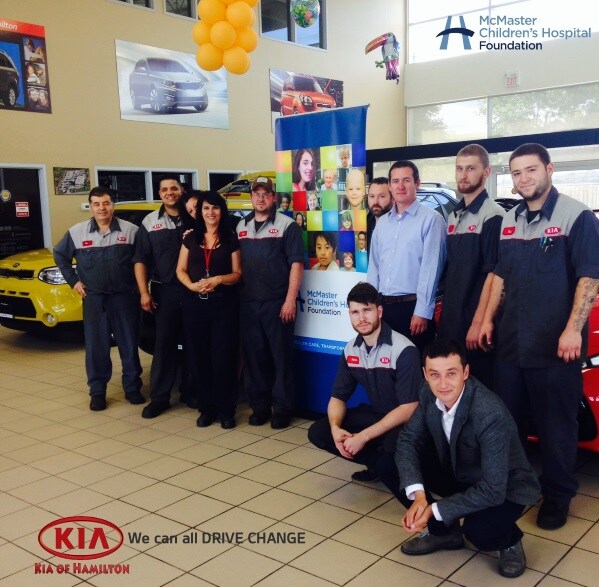 August 21 2014 -
Kia of Hamiltonians gather around our support of McMaster Children's Hospital on Kia Drive Change Day! $100 was donated to MacKids Foundation for every car sold!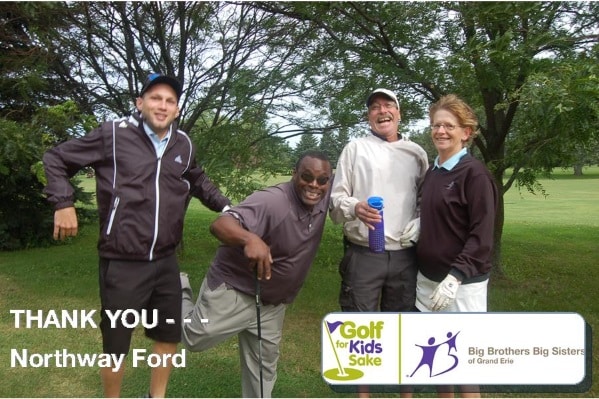 August 19 2014 -
Northway Ford & Car Nation Canada sponsors Big Brothers & Big Sisters of Grand Erie helping to raise $20,000!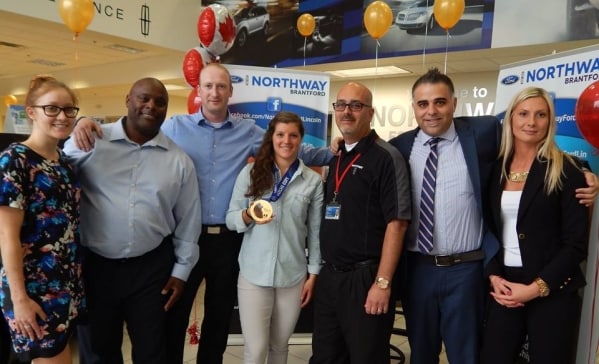 May 23rd 2014 Brantford ON -
Car Nation Canada sponsors local Canadian Women's Hockey and Olympic Gold Medalist Laura Fortino is one of them! She stopped by Northway Ford Lincoln Brantford to sign some autographs for locals!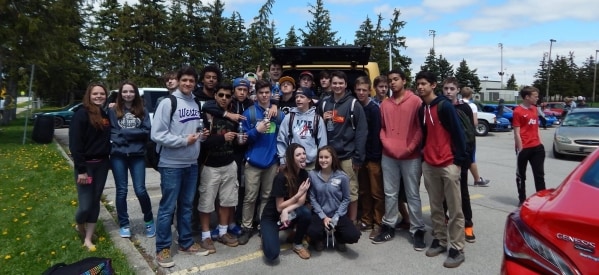 May 20 2014 Burlington, ON -
Unique Chrysler had the pleasure to be a part of the Nelson High School Auto Show in support of the Carpenter Hospice!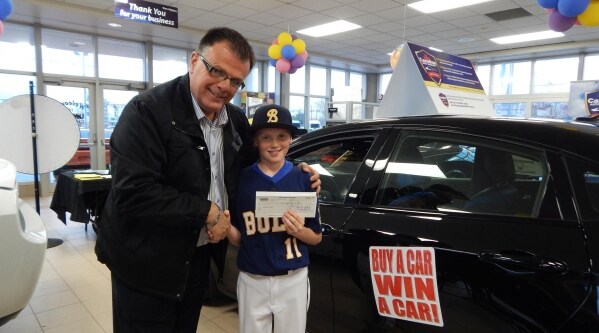 May 1 2014 Burlington ON
- Unique Chrysler sponsors local boys baseball team the Burlington Bulls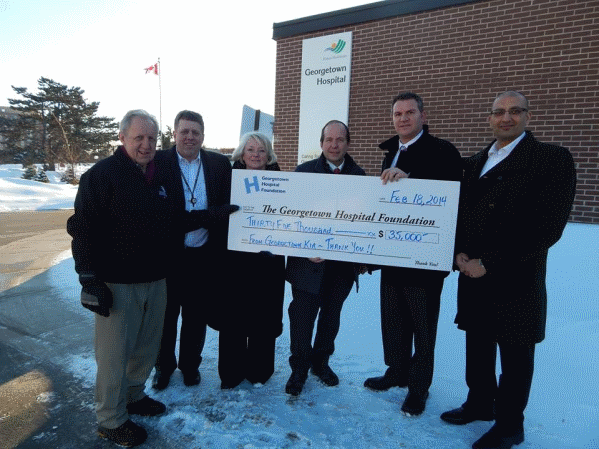 Feb 21 2014, Georgetown, ON -
Georgetown Kia donates $35,000 to Georgetown Hospital Foundation!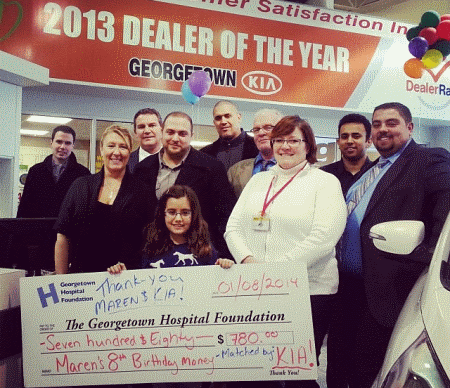 Jan 8 2014, Georgetown, Ontario - Georgetown Kia donates $780 to Maren for Georgetown Hospital Treatment!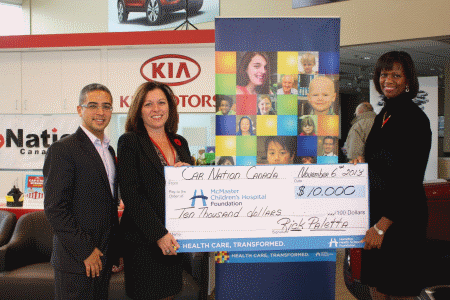 November 6, 2013 Hamilton, Ontario - Car Nation Canada donates a cheque for $10,000 to McMaster Children's Hospital Foundation at the 4th Annual $25,000 Giveaway Live on CHCH at Kia of Hamilton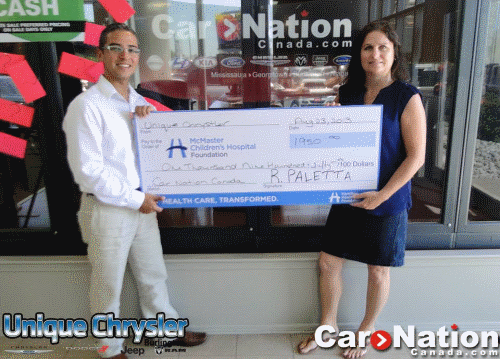 Aug 23 2013, Burlington, Ontario -
Unique Chrysler donates a cheque for $1950 after their Dog Days of Summer Sale where for every car sold on Saturday, Car Nation Canada would donate $150 to McMaster Children's Foundation.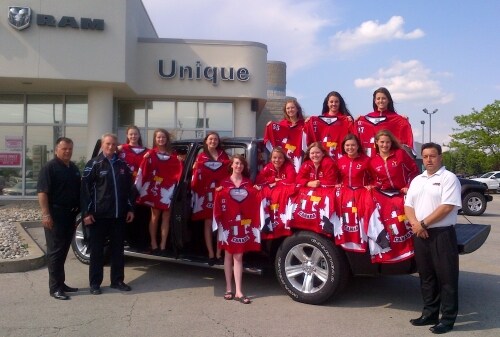 June 15 2013 Burlington ON -
For every car sold from June 14-June 16, Unique Chrysler donated $250 to the Canadian Maple Leaf Girls Under-18 Hockey Team so they can go play the best in Europe.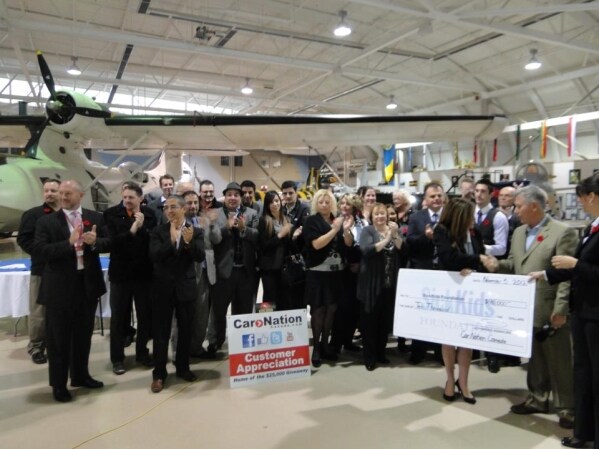 November 5 2012, Hamilton, Ontario -
Car Nation Canada's $25,000 Giveway saw 5 lucky winners win $5,000 live on CHCH from the WarPlane Museum in Mount Hope, Ontario. Car Nation Canada employees, including Georgetown Kia staff members pose for a group photo. $10,000 was donated to SickKids Hospital as well!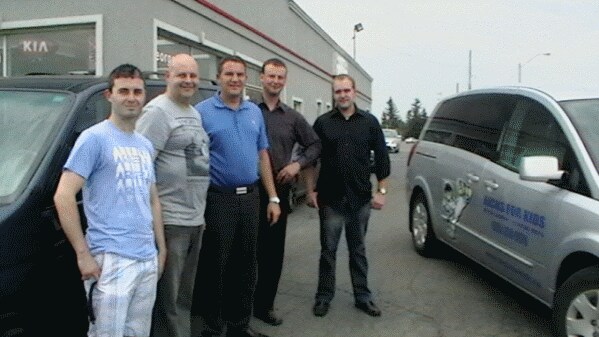 July 3 2012, Georgetown, Ontario -
Georgetown Kia, a Car Nation Canada Dealership represented by (right to left) Sales Managers Tome Stephenson-Wills, Rob Tasi and General Manager Tony Garofoli donate a Honda Odyssey Minivan to 'Kicks For Kids' a local youth athletic program.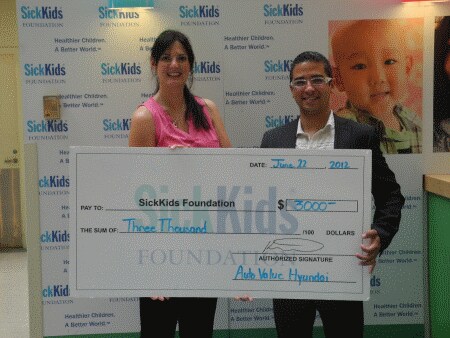 June 22 2012, Toronto, Ontario-
Car Nation Canada donated $3000 to SickKids Foundation after a very succesful 24 Hour Sale in May!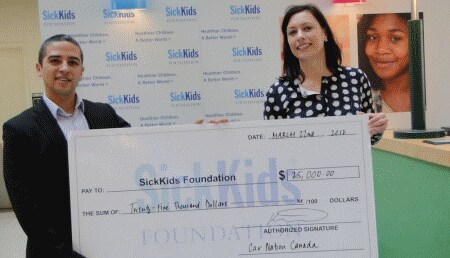 March 22, 2012 Toronto, Ontario -
Car Nation Canada Internet Marketing Manager Ivan Sandoval presents a cheque for $25,000 to Associate Director, Corporate Partnerships Sabrina Gollnow from SickKids Foundation.
The Southwestern Ontario-based Automotive Dealership Group, which includes the brands of Chrysler, Dodge, Ford,  Lincoln, Nissan and Ram in cities like Brantford, Burlington, Georgetown,  Mississauga, and St. Catharines, continues to be very active in the community supporting local teams and charities.
Car Nation Canada President and Founder Rick Paletta was ecstatic:
"I love kids and I love giving back to them in any way possible. I just feel that I am very lucky to be able to have the ability to do this for children in our communities."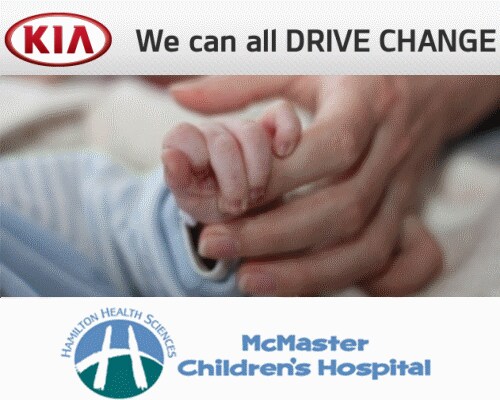 Kia of Hamilton & Georgetown Kia have been proud to support the McMaster Children's Hospital, with it's Kia Drive Change Fundraiser
About McMaster Children's Hospital
McMaster Children's Hospital is the regional academic centre for pediatric acute care, rehabilitation, developmental and mental health services.
Their goals:
Leading in the provision of the best and most compassionate care in the hospital and community for children, youth, their families and those with special developmental need
Collaborating with community partners in the coordination of care and the education of families and communities

Advancing and sharing knowledge gained through research to improve health and health care

Providing education in the special knowledge and skills to meet the particular needs of children, youth and families

 

Advocating for the optimal health of all children and youth.