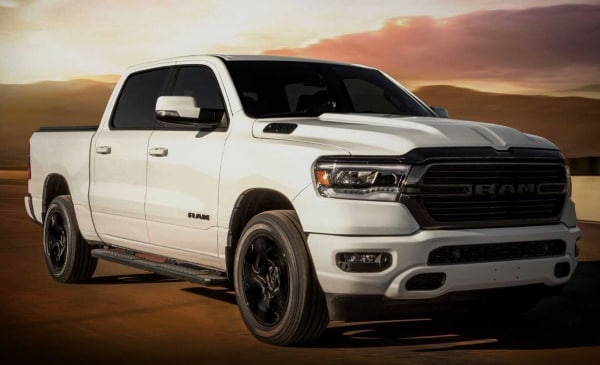 FCA does love it's special editions and I must say, for the most part, I do too. The majority of them are definitely well thought-out and offer something unique and interesting to buyers. That's true for the two new specials for the 2020 Ram 1500. They even have cool names, Night Edition and Rebel Black. If you needed any more inspiration to buy a
Ram truck
, this is it!
The 2020 Ram 1500 is already making waves and it hasn't even been released yet. These two new trims are just going to increase that.
2020 Ram 1500 Night Edition
The 2020 Ram 1500 Night Edition is based on the Laramie trim goes monochrome with a black grille, black badging, black exhaust tips, black wheels and black trim elements. It will also have black light surrounds front and rear too. It looks mean and keeps things mean enough to stay on the right side of appealing.
2020 Ram 1500 Rebel Black
The 2020 Ram 1500 Rebel Black goes further with Diamond Black Crystal Pearl Coat paint, black wheels, black skid plate and exterior trim elements. There is also the option for black and contrasting red upholstery too. This version also looks mean but in all the right ways by staying stylish while telling everyone it's a special edition.
The 2020 Ram 1500 builds on last year's redesign in all the right ways. It refines the look with a smoother and softer front end with less of the huge chrome frontage. It also adds the turbodiesel engine as an option, improves interior materials and finishing and adds a 12 inch touchscreen as an option too.
The new truck is going to be even more popular than the current one. The already superb interior has been stepped up, the engines have all been refined, the V6 diesel is going to be an option and safety is being stepped up too.
Ram 1500s have always been safe trucks to drive but the inclusion of active safety technology takes it further. Cameras with zoom, larger screens to view, blind-spot monitoring and the optional Advanced Safety Group package with automatic braking and active lane control are going to impress.
The engines won't disappoint either. The 3.6-liter V6 eTorque mild hybrid will be standard while the 5.7-litre Hemi V8 is still available for those who need more, with or without eTorque. The 3.0-litre turbodiesel will also be available too.
The V8 will be able to tow a maximum of 12,750 pounds while the diesel V6 will tow up to 12,560. Both are impressive figures in this category.
We expect the 2020 Ram 1500 to be with us within a few months. Register your interest at
Unique Chrysler Dodge Jeep Ram
, 915 Walkers Line, Burlington, ON L7N 3V8.