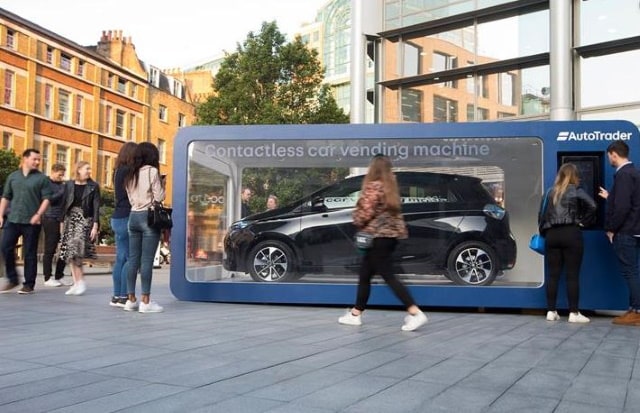 A new way of selling cars is being trialled in the UK, a car vending machine. The fully automatic, unmanned machine offers a single car right now and promises a 'contactless haggle free'
car buying
experience. Is this the future for selling cars?
I don't think it will challenge the car dealership yet but it is an interesting way to sell cars.
The guys here at Car Nation Canada are nice people to do business with but we appreciate that not everyone likes the car buying experience. Some people are uncomfortable haggling, some don't like talking about money at all and the process of getting authorization for a transaction is interpreted by many as a sales tactic rather than a necessary step in the process.
So would you prefer to walk up to a vending machine and buy a car?
Autotrader UK are trying to find out. They have placed a car inside a vending machine in Spitalfields Market in London. It's a high foot traffic area that sees a lot of locals and tourists go by. Inside is a Renault Zoe, a small EV car available in Europe. The price is the equivalent of $26,000 CAD, which is a cool $10,000 less than you would pay at a Renault dealer.
You can pay contactlessly by phone but the marketing material doesn't say whether you can drive it away there and then or will need to pick it up later. Presumably it's the latter as there is always paperwork to complete with any new car purchase.
Here's an explainer video:
As the video says, this experiment is to address the dislike many people have with the traditional dealer experience. But there are shortcomings to this way of buying.
You don't get to choose the colour. Unless vending machines will carry every colour available, you will only get what is stocked. If you can order a car from the machine for later delivery, you would be able to specify the colour but otherwise you're stuck with what's in the machine.
You don't get to choose options either. This experiment has a standard Zoe but what if you wanted a panoramic sunroof or keyless entry? What is you wanted to fully load your new car? Again, if you could order for later delivery you would be fine but otherwise you get what you get.
Then there's all the extras you can get from a dealership. Free servicing, discounts on parts, extra warranty, auto insurance and car finance. This vending machine takes cash payments from your bank via a phone app. Those fortunate enough to have $26k in their account are fine but that won't help the rest of us!
The car vending machine is an answer but not the answer. Like many aspects of life, it will be good to have it as an option but I don't think it will replace the
car dealership
anytime soon.