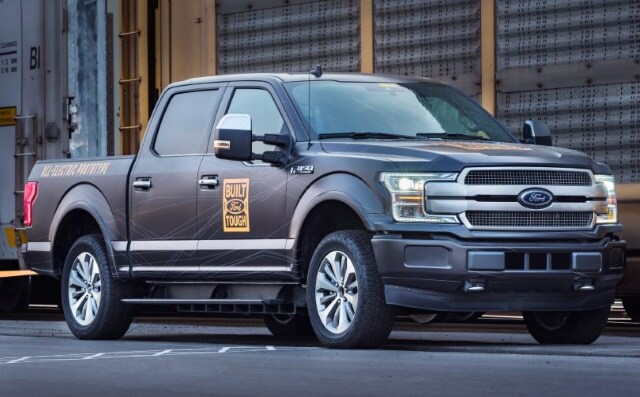 We know
Ford
has been planning an electric F-150 truck for a while and even had a half decent idea of what it would look like. Now the automaker has said the EV truck will arrive sometimes in 2021, after the Mach-E or whatever it will be called is released.
You don't need me to tell you how popular the standard F-150 truck is. The figures say it for themselves. So any change to the truck has to be done very carefully indeed. That includes changing the drivetrain. Fortunately, the EV variant will run alongside the standard gas engines so there will be something for everyone.
Despite having invested billions in alternative fuels and electrification, Ford has come under a lot of criticism over the past couple of years for not having more EVs available. To answer, Ford says it is much better to take their time and do it properly than rush models out to market only to have them fail.
While laudable, this gives other automakers a head start and an opportunity to steal market share. Kia, Nissan, Hyundai, Toyota and others all have increasing numbers of EVs while all other automakers are following suit. Ford really is playing catchup but I can understand what it means when it say sit wants to get it right.
'We're coming in at the right time,' Ted Cannis, Ford's global director of electrification, told Automotive News. 'We could do all sorts of different things, but we're going to play to what we're good at: commercial vehicles, vans, pickups, performance vehicles and SUVs. We have loyal customers, we know our base and the margins are better. It's just the right business.'
Even though there are lots of EVs on the market right now, few of them actually turn a profit. They are very expensive to develop and manufacture. Often so much so that they become loss leaders for the next generation of EV. Even with higher pricing, the current crop of electric vehicles rarely turn a profit. Instead, what they do is get us used to electric cars and build an appetite for future releases.
The Focus Electric was a credible EV but wasn't profitable. What it did was show us that mainstream vehicles can be clean without too many compromises. Despite only having 100 miles in range, it proved that you could turn a family favourite into a green car while retaining many of the qualities that drew you to it in the first place. That should then lead on to better acceptance of future models.
The electric Ford F-150 is going to have to do a lot more to attract buyers. It will have to provide a decent range while still being able to haul and tow similar loads to the gas-powered truck.
Being green itself, for most of the market, is not a key buying factor," said Sam Abuelsamid, principal research analyst at Navigant Research. 'They're looking for other attributes. 'Ford wants to demonstrate that [even though] it's powered by a battery, it still delivers what an F-150 has always been expected to deliver.'
We shall have to wait and see what the electric F-150 brings closer to the time. For now,
Northway Ford Lincoln
has standard F-150 trucks for sale at some exceptional prices!