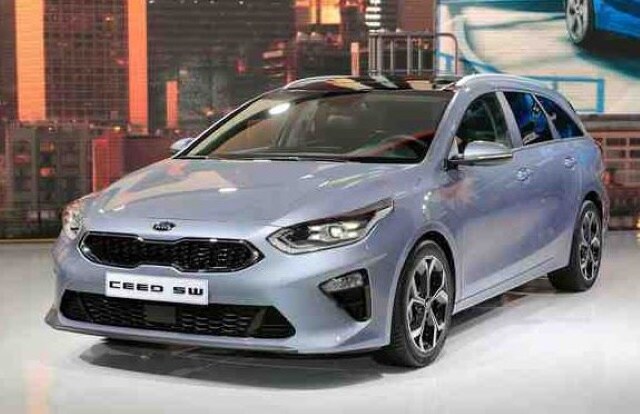 Kia
is one of the many automakers gradually shifting output towards electric vehicles. One I saw recently covered by a European outlet was the 2020 Kia Ceed Sportswagon. There is nothing saying we will get it in Canada but I sure hope we do!
The Kia Ceed, thankfully having dropped the apostrophe, is a popular car in Europe that we don't get here in Canada. As the Korean automaker moves more towards global models like Ford, I'm hoping that will soon change. Especially if the Kia Ceed Sportswagon is anything to go by.
The Kia Ceed Sportswagon is a PHEV in wagon configuration builds on the already successful Ceed. It adds more room at the back and adds a plug-in hybrid powertrain and an all-electric model. Not only is it a very handsome car but has a 37 mile electric range and 437 litres of cargo space.
The design is very similar to the standard Ceed. It's a sleek design with tiger nose, closed in the PHEV's case, aero profile, low roof and a rear that looks more like a BMW 3 series wagon than a Kia. It's a handsome car with panel detailing down each side, allow wheels and a plug on the front left fender.
Inside, the cabin is up to Kia's usual high standards. Interior space is plentiful, seats are comfortable and the LED dashboard is easy to read and manage. The batteries are located next to the fuel tank under the car so as to not impact interior space. That's how the wagon can offer 437 of cargo space which increases to up to 1,500 litres with all rear seats folded down.
The 2020 Kia Ceed Sportswagon PHEV has a 1.6-litre four cylinder engine that is paired with an 8.9 kWh lithium-polymer battery pack and a 44.5 kW electric motor. It uses a six speed dual clutch transmission to power the front wheels and delivers 139 hp combined. While not yet rated, the combination should deliver superb gas mileage!
As part of the efficiency drive, the 2020 Kia Ceed Sportswagon is equipped with regenerative braking. It uses the kinetic energy from braking to generate power to top up the battery. Used well, it can be used to eke an extra mile or two out of that range.
Europe has rules around the silent running of EVs. After a couple of accidents where the silence of electric motors were blamed, cars now create artificial engine noise. This will helpfully be a temporary thing until pedestrians are more used to cars being silent but is necessary for now. It's called VESS, Virtual Engine Sound System by Kia and will be enabled whenever the car is in EV-only mode. It should produce enough sound to meet EU standards and prevent any more accidents.
For now the 2020 Kia Ceed Sportswagon is not coming to Canada. I hope the automaker changes its mind as I think even though we are shifting towards crossovers, this wagon has enough going for it to appeal.
Check out the Kia range you can buy at
Georgetown Kia
, 199 and 314 Guelph Street, Georgetown, Ontario.