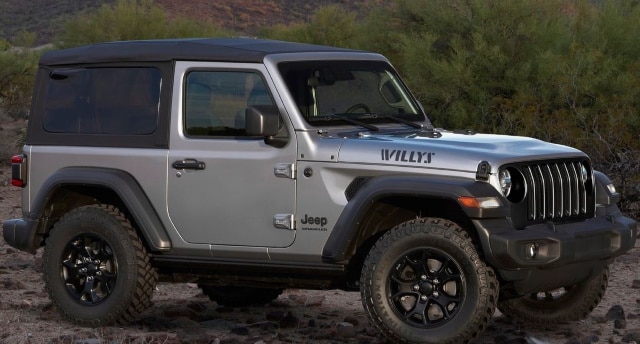 After talking yesterday about the Ram special editions and how FCA does love to mix things up a little with these limited trims, we have news that
Jeep
is up to the same thing. The 2020 Jeep Wrangler is adding a new Black and Tan and new Willys edition to further extend the range.
I mentioned the Black and Tan a little while ago and said I liked what it offers. The Willy special edition is something else entirely but I like that one too. Both offer something a little different to an already superb Jeep.
Jeep Wrangler Black and Tan
The Jeep Wrangler Black and Tan edition uses a Wizard Black body colour with a tan top to give the signature look. It's a heritage appearance that also managed to be of the moment. It will also use unique 17 inch wheels, unique side steps, dark exterior badging, interior tan trim, black instrument panel and other trim elements.
The Jeep Wrangler Willys is my personal favourite. It builds on the Willys we saw on previous model Wranglers. It has a very cool silver and black colour scheme with rock rails, Rubicon shocks, upgraded brakes, 17 inch aluminium wheels with 32 inch Firestone off road tires, limited slip rear differential, LED lighting and interior trim.
The 2020 Jeep Wrangler JL is the best Wrangler yet. It honours its roots but also keeps things fresh and clean. With upgrades in all the right places, the JL manages to be a Jeep and then some.
The design has retained the signature front grille while tweaking it a little. The interior has had a revamp and you now have the optional diesel engine. The new cabin is a real highlight, building on earlier improvements to make it much more comfortable and include more tech, either as options or as standard.
The engines are ideal for the vehicle. The 3.6-litre V6 remains and delivers smooth power throughout the range. A turbocharged 2.0-litre engine has a burst of power for when you need it and uses an electric motor at the low end for extra get up and go. The diesel is also worth checking out if you value torque over power.
From the trim you select you can add from a huge range of accessories that include everything from different tires to complete off road running gear. You can also upgrade the interior almost infinitely with different upholstery, technology and dressing. Choice is one thing you're certainly not short of when shopping for a Jeep!