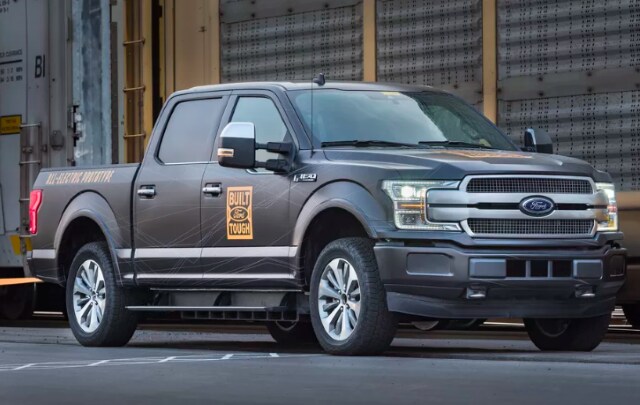 Ford
designed the F-150 truck to be able to haul stuff around as part of its mass appeal. I imagine the original designers didn't have a train down as one of those things though. In a PR stunt released last week, the new electric F-150 pulled 10 rail cars over a thousand feet in one go.
The train, weighing around 453,000 kg, or a million pounds in American, was comprised of ten double decker rail cars. The first attempt used empty rail cars while the second attempt loaded them up with 42 standard Ford F-150 trucks to being it up to around 1.25 million pounds or 566,000 kg.
The video of the stunt is here.
'The all-electric F-150 prototype is towing far beyond any production truck's published capacity in a one-time short event demonstration,' the accompanying press release says.
I agree. I think the last stunt like this was when a Tesla Model X towed a Boeing 787 Dreamliner nearly 1,000 feet on a taxiway at the Melbourne Airport in Australia. Not quite on the same scale as this!
Ford has invested a massive amount of cash into its electrification program. Estimates are around $11.5 billion USD so far with likely more to come. There is a lot of pressure to deliver a range of electric vehicles to market that can recoup this investment. The electric F-150 is just one of them.
This version is expected to hit the market around the same time as the electric Mustang-inspired crossover. Two vehicles with a very loyal following firmly wedded to internal combustion. While the crossover is 'only' Mustang inspired, tying that evocative nameplate to any vehicle already sets itself up for huge expectation.
To tackle both audiences at once is very brave, but also gets the most pain out of the way early. To electrify one of Ford's most iconic vehicles and one links to an iconic vehicle, with the most loyal following, with the closest links to gasoline engines is brave. Very brave.
We don't know a whole lot about the electric F-150 as yet except that Ford will be pouring every ounce of their EV knowhow and experience into it. The truck is a huge seller for the automaker and they cannot afford for it to go wrong. The company took a risk when introducing aluminium panels and proved themselves right. It will be interesting to see if Ford can prove themselves right again with an F-150 EV.
To great prices on Ford's superb F-150 truck, visit
Northway Ford Lincoln
, 388 King George Road Brantford ON N3S 3N2.