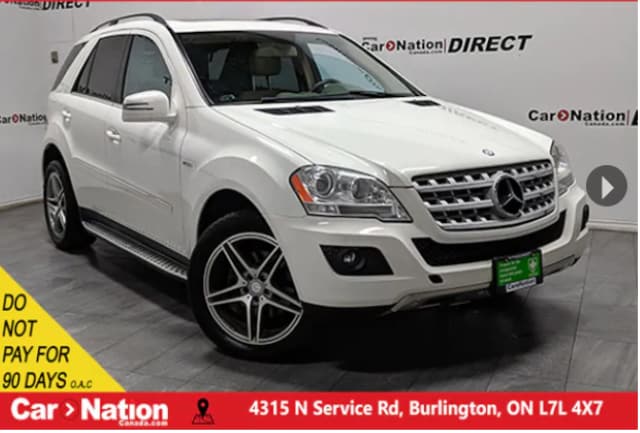 One of the top quality featured vehicles over at Car Nation Direct this week is the
2011 Mercedes-Benz M-Class ML350 BLUETEC 4MATIC
. This is a diesel SUV designed and built in Germany by Mercedes-Benz. The M-Class is a modern legend and is highly regarded across the world for its build quality, reliability and luxury.
This is an excellent example of what SUVs should be. Comfortable, capable of surviving anything and going anywhere and with few compromises to how we live. The M-Class is the perfect example of that.
This 2011 Mercedes-Benz M-Class ML350 is for those who would love a G Wagen but couldn't justify the cost. Who want a touch of class without spending big bucks and yet can still get an amazing level of luxury for economy prices.
The M-Class is Mercedes-Benz going back to what they do best. Building top quality vehicles that are tough, reliable and worth the premium you pay to get the silver star.
This SUV is a handsome vehicle with Mercedes grille front and centre, angled lights either side. Body coloured lower sill and bumpers give it a mature look while the skid plate underneath hints at its off road capability. Chrome trim over the vehicle along with side step hints at the luxury within too.
Inside, there is room for five to sit in comfort. Materials and finishing is top drawer. The cabin is light and airy with lots of head and legroom for passengers and cargo in back. There is around 72.4 cubic feet of space with the seats folded down and 29.4 cubic feet with the seats upright.
The driving position is comfortable with a touch of luxury while keeping all controls within reach. The ML350 comes with power accessories, climate control, MP3, voice command, sunroof, navigation, cruise control and a heated steering wheel.
Under the hood is a 3-litre V6 diesel that produces 210 hp and 400 lb-ft of torque. This version is AWD and has a seven speed automatic transmission. As this is a Mercedes-Benz, the engine is quiet and refined for a diesel while offering a lot of torque and decent gas mileage.
Mercedes-Benz M-Class are also know for the ride quality. It's an SUV but doesn't wallow or dive in the corners. It holds its posture regardless of how you drive it and often doesn't even feel like you're driving an SUV. It's one of the many reasons the M-Class are so highly rated.