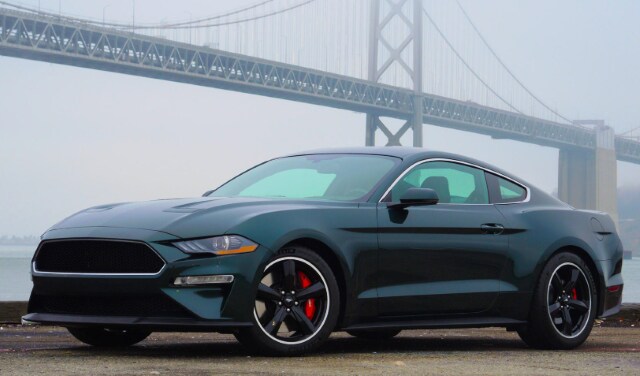 I like this version of the Ford Mustang Bullitt. Yes it's the third time it has been done and yes it's just another special edition of an already amazing car, but there is something special about this one. This
Ford
looks superb, has that emotional link to Steve McQueen and it stands on its own as a solid performance car.
We knew it was fast from the numbers, but a video created by AutoTopNL on a piece of unrestricted Autobahn in Germany shows it in full.
It is both impressive and a shame watching that video. Impressive in how quickly that speedometer moves when the driver gives it full gas but a shame when the engine hits its limiter at 260 kph while still in fourth gear. As someone mentioned in the video comments, 'When you hit the limiter but you've got 2 more gears left...'
Not all German Autobahn are unrestricted but those that are can be the perfect showcase to see a real car on a real road in real traffic conditions. It's always good to see a car in action on the track but you get much more of a sense of the real thing when it's on a highway or somewhere you can relate to.
The Ford Mustang Bullitt is built on the standard car but with less of an announcement. There is very little chrome, no loud colours, no stripes or other accoutrements to shout its origins. Just a big V8 and a suitably aggressive look that tells you all you need to know before you even turn the key.
Once you do turn the key, the 5.0-litre Coyote V8 is capable of 480 hp. All of which are obvious in that video. The car is limited to 260 kph, 162 mph but it can get there impressively quickly.
The interior has not been scrimped on either. Even though this car is about performance, the interior is fully featured and not pared back. Comfortable sports seats, nice trim, lots of technology and even room in back for passengers makes the interior feel as much a daily driver as performance car.
If I wanted to change anything, it would be that shifter knob. It's the only thing in that entire car I don't like. Even though it's the same as the one from the Bullitt movie, I would prefer either a black one or something different entirely. That's just me though.
Everything else about the Ford Mustang Bullitt is top notch. The look, the feel, the sound, the stance. It's difficult to imagine how Ford will better this!
See the full range of Ford Mustang models at
Northway Ford Lincoln
, 388 King George Road Brantford ON N3S 3N2.