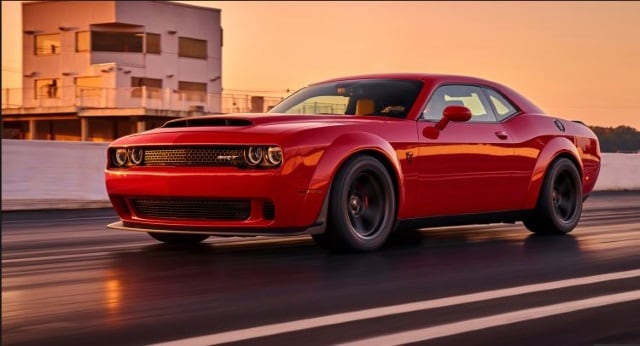 The latest video to be doing the rounds right now is a drag race between the awesome Dodge Demon and the super-slick Ford GT. It was a race to determine whether it would be brute force or aerodynamics that won the day.
​
The video, here, shows our two favourite performance cars in a head to head drag race in a WannaGoFast half-mile event in Immokalee, Florida.
I won't spoil the outcome as this race isn't as clear cut as you might think. It does make for great watching though.
The Ford GT should need little introduction. It's Ford's performance car of the moment and an awesome sight to behold. It's low, wide and looks amazing both in terms of its nod to its heritage and to its modern day competition. It's as rare as it is powerful with every single model sold out long before they hit production. Used versions cost many times the original price and are rarer than hen's teeth.
With a 3.6-litre twin-turbocharged V6 that delivers 647 hp, it has less power than the Demon but is much lighter, almost 800 pounds lighter.
The Dodge Demon is a vehicular juggernaut. Big, brash, wide of body and tall of stature. It doesn't compromise on its sedan heritage or on anything really. With a considerable weight of 4,280 pounds, it is over 800 pounds heavier than the GT but has more power.
This version has the 6.2-litre supercharged V8 but has been tweaked to deliver 840 hp. That's almost 200 hp over the GT to counter the weight.
This head to head is a bit of fun and the ideal opportunity to see our two favourite performance cars duke it out on the track. It isn't often we get to hear either hit full throttle anywhere and for the soundtrack alone, this video is worth watching.