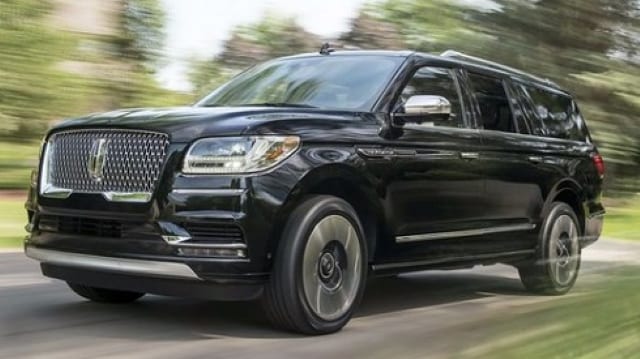 I got to spend some time with a 2020 Lincoln Navigator demo car this week. Having covered it over the past year as we waited for reviews, it was nice to finally get hands-on and have a look and feel of this luxury SUV from
Lincoln
.
I like the direction Ford and Lincoln are travelling in right now. Switching from designations to names, upgrading the design of all their vehicles, concentrating on offering reliability and quality and adding value wherever possible. It's definitely a big jump forward from the cars of old. The 2020 Lincoln Navigator is the epitome of all that.
The 2020 Lincoln Navigator is a big, luxury SUV that makes no apologies for its appearance or its offering. The stylish design isn't as gaudy as it once was and is much more composed. It's definitely a design of today, reflecting what premium SUV buyers of the now look for and expect when paying good money for a vehicle.
The design is sleek, which is difficult to pull of with something of this size. The paring back of the chrome and refining of the grille and lights, along with a simple panel design running down the entire vehicle means this thing looks good sitting still and while on the move.
Inside, it is as large and as luxurious as you would expect and then some. Materials are top class, finishing is excellent and interior space is cavernous. There is more light and spare space in the Navigator than in my apartment. Seats in all three rows are comfortable and supportive, the driving position is commanding with the height affording a great view of the road.
Under the hood is Ford's twin turbo 3.5-litre V6 that produces 450 hp and 510 lb-ft of torque. It uses the 10 speed automatic we know and love combined with the engine to deliver a steady stream of power whatever you ask of it. Along with the composed suspension and supremely comfortable ride, driving it is a real pleasure.
The 2020 Lincoln Navigator received a five star safety rating from the US NHTSA. Thanks to blind-spot monitors, adaptive cruise control, automatic emergency braking and active lane control as standard, it's a safe place to be. Add the optional heads-up display, surround cameras, automatic lighting and active parking assist and you're covered from every angle.
People buy Lincoln for its (mostly) understated elegance and in the 2020 Lincoln Navigator you get that in spades. Sure the size may be imposing but the design is so elegant that you're no longer driving around with a big 'look how rich I am' sticker on your car. It's a more refined, laid back vehicle to drive and is all the better for it.
Visit
Northway Ford Lincoln
, 388 King George Road Brantford ON N3S 3N2 to learn more about how good the 2020 Lincoln Navigator is!