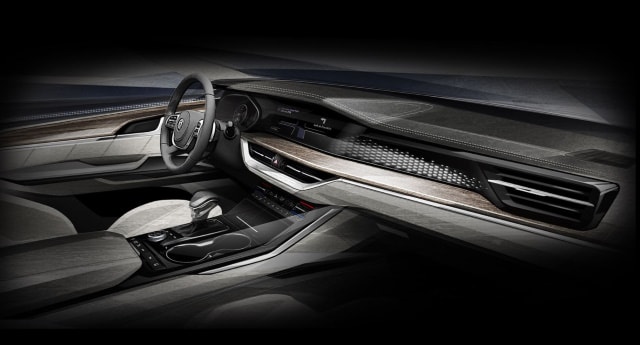 I mentioned the Kia Mohave last week but couldn't say all that much about it at the time as
Kia
hadn't released much information. The images we received from the Korean automaker had blacked out windows to keep the interior away from prying eyes. The concept we saw in Seoul had the same. This week we get to see inside the new SUV.
Kia also clarified the naming, it is apparently being called Mohave the Master. I won't be calling it that though. It's the Kia Mohave as far as I'm concerned.
Last time I said:
'Images released by Kia show an attractive, upright SUV that looks passingly like a Jeep Cherokee or Mitsubishi Outlander. It's an upright design with prominent front end and large grille. The four individual headlights are a Kia trait that make the SUV stand out from the crowd. Overall, it's a great first impression of a new model.'
There was a 3.0 V6 badge on the model pictured last time which referred to a diesel engine available in other regions. I am still convinced we won't get the oil burner but will instead get a gas V6 like we see in the Sorento or new Telluride.
I can now add a little meat to that description by including the interior.
The Kia Mohave is a great looking SUV. It's an elegant vehicle that departs from Kia's usual style but still exudes its own. It's an upright design with a neat light cluster, smooth lines and a fantastic presence.
The interior is equally elegant. It's an exercise in minimalism with just enough to provide interest without overdoing it. The smooth, one-piece dashboard flows across the entire front end with what looks like stitched material covering the entire width. An integrated touchscreen is included beside the instruments to provide a very upscale look.
Silver accents, a carbon effect trim, that stitching, the centre console and door card all look of an equally high quality with contrasting silver, black and wood effect elements that combine better than those three should all together.
While the image still doesn't give too much away, we now have a pretty good idea of what to expect with this new SUV, presuming it comes to Canada.
I think a Kia Mohave with a gas V6 engine as good as that in the Telluride will go down incredibly well. Kia is filling out its model lineup with some seriously impressive vehicles and it shows no signs of stopping yet. The Mohave goes on sale in Kia's home territory of South Korea next month so expect a full reveal soon. A North American release will likely come sometime next year.
For now, Kia has a range of top class SUVs that deliver much more than you might think. Visit
Georgetown Kia
, 199 and 314 Guelph Street, Georgetown, Ontario to see for yourself.