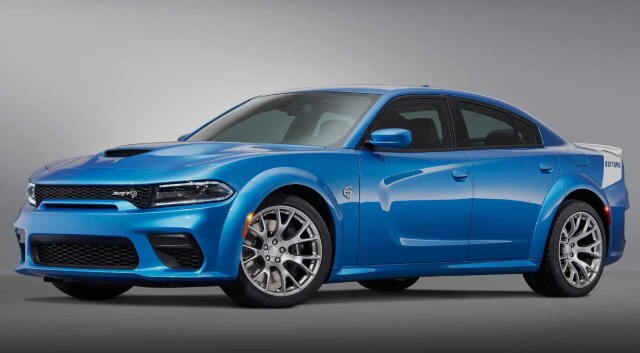 Dodge
is bringing back the Daytona as the 2020 Dodge Charger Daytona and it looks good! A reviving of the 1969 classic with its huge rear wing and extended front end has thankfully been brought right up to date with modern aesthetics but it should still have the appeal of the original. Especially when you get to know what's under the hood!
It's a half century after the original Daytona was released and to celebrate its anniversary, Dodge have created a new version of it. The 2020 Dodge Charger Daytona, or more correctly, the 2020 Dodge Charger SRT Hellcat Widebody Daytona 50th Anniversary Edition.
This is going to be a limited edition with only 501 units being produced. Again a nod to the original that also had 501 units, the minimum required by NASCAR to make the prototype a production car.
The 2020 Dodge Charger Daytona is more in the spirit of the original than a full resurrection and that's a good thing. While the narrow nose of the original worked well, the rear wing didn't, except on the track. This new model takes the modern Charger SRT Hellcat and adds some tweaks here and there to make it a true one off.
One of those tweaks is to the engine. The 6.2-litre supercharged Hemi V8 has been tweaked to increase horsepower up to 717 hp and 650 lb-ft of torque. A modest increase of 10 hp but it's enough. New Brembo brakes will bring all this power to a stop with six piston units at the rear and four at the front.
The colour is also original. Called B5 Blue it's a fantastic colour with a silver stripe running over the trunk. It isn't the only colour that will be available, you will be able to order Pitch Black, Triple Nickel and White Knuckle but I don't know why you would want to.
The wheels seem original too and a little old school. They are apparently 20 x 11 inch alloys with a satin carbon finish.
Inside you'll get heated and cooled adjustable seats with Nappa leather, Alacantra inserts and blue accent stitching, new interior trim with accent stitching, new mats, carbon fibre instrument panel, flat bottomed steering wheel, a unique model number plate and interior Daytona badging.
Apparently Canada will get an allocation of 40 2020 Dodge Charger Daytona. The order books open sometime this fall with pricing to be announced nearer the time.
Register your interest in the 2020 Dodge Charger Daytona at
Unique Chrysler Dodge Jeep Ram
, 915 Walkers Line, Burlington, ON L7N 3V8. They are going to sell fast!