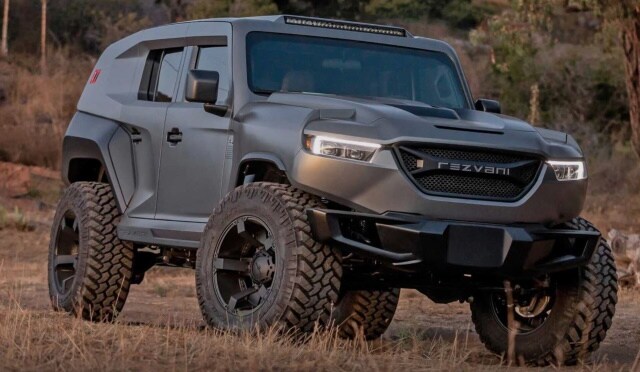 The Rexzvani Tank X is not your typical SUV. If an Abrams tank mated with a Transformer and fed it on high octane fuel, the result would look something like the picture above. It's a mean looking SUV that is not going to suffer any fools on the highway. IT is actually based on a
Wrangler JL
, not that you'd know under all that bodywork. It is longer and wider than a Wrangler and has definitely departed in terms of design but there are few more capable platforms with which to build such a vehicle.
If that wasn't enough, the Tank X uses the 6.2-litre supercharged V8 engine from the Dodge Demon. It has been tweaked substantially to deliver 1,000 hp. It supplements that power with seriously upgraded Fox suspension, off road wheels, tires and brake package. The brakes are tidy 8 piston units capable of bringing this vehicle to a fast halt if necessary.
Inside, it's a mix of luxury SUV and gin palace. With several seat and upholstery options, comfortable interior fit, excellent visibility made more practical with thermal imaging and night vision. Other neat touches include switchable AWD, lift kit, Dana axle option and something called the 'starry night headliner'.
The core features one would buy the Tank X for is that it is fully bulletproof, can drive almost anywhere and is insulated against EMP.
All this doesn't come cheap though. The base model Tank X costs $349,000 USD and a fully loaded model costs a cool $429,600 USD. That's a lot of money for an SUV but not a lot of money for an SUV that could probably survive the zombie apocalypse.
All this from a Wrangler JL? The Wrangler JL is an incredibly competent vehicle in its own right. It can go anywhere, do anything and has come on in leaps and bounds from older generations. It's a very flexible vehicle that is now genuinely comfortable on the road as well as off it.
It's an all-new vehicle with new chassis, new bodywork, new engine, new transmission and everything new. It may look like previous generations but there is nothing here that hasn't been changed or upgraded. So far the changes have gone down very well with buyers and fans alike. It's a nicer drive, has better road manners and is still unstoppable off road. All things you want from a go anywhere vehicle!
The Wrangler JL really is the ultimate off roader and will continue to be for some time. Come see for yourself at
Unique Chrysler Dodge Jeep Ram
, 915 Walkers Line, Burlington, ON L7N 3V8!