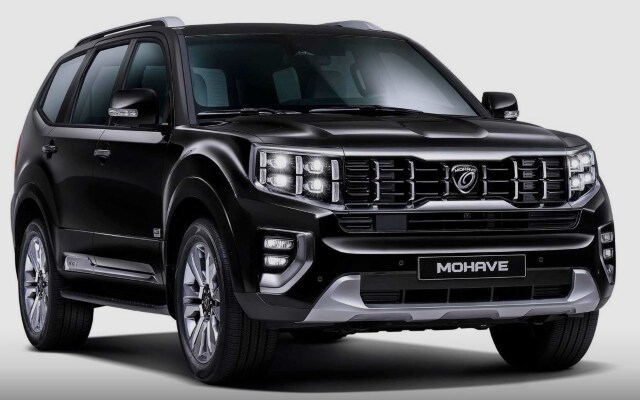 The Kia Mohave sold as the Borrego in North America a few years ago before being retired. It's a midsize SUV that sits close to the Sorento but under the larger Telluride within the product range. We got a glimpse of a
Kia
preview model at the Seoul Motor Show earlier this year but now we get to see if for real.
Images released by Kia show an attractive, upright SUV that looks passingly like a Jeep Cherokee or Mitsubishi Outlander. It's an upright design with prominent front end and large grille. The four individual headlights are a Kia trait that make the SUV stand out from the crowd. Overall, it's a great first impression of a new model.
The Kia Mohave, formerly known as the Borrego until it left our shores in 2009, is a sidestep in terms of design. I don't mean quality here but more the branding and overall aesthetics. There is no Kia badge. The grille is different to all other models, although does not to the tiger nose. The design is more angular than usual for Kia and it's overall a different beast.
It still looks great though. It looks more rugged than usual and certainly appears capable of handling rough treatment. The inside looks the opposite. Comfortable, a little luxurious and not used to the rough life at all. We have only seen teaser shots and Kia have yet to release any official images, but from what we have seen and heard, it's going to compare well with the Sorento.
The demo vehicle at the Seoul Motor Show had all its windows blacked out so we literally have no idea of what it will look like inside. Even the teaser images released by Kia show only the front and rear and not even a glimpse of cabin.
The teaser image shows a 3.0D V6 badge hinting at the engine we have seen in other global models. It's a turbocharged 3.0-litre diesel that produces in the region of 256 hp and 413 lb-ft of torque. It's unlikely that we will see the diesel over here and would much more likely see a gas V6 along with an automatic transmission of some kind.
There has been no mention of a Canadian release for the Kia Mohave but given our predilection for SUVs, it is unlikely in the extreme that we wouldn't get it at some point. Given how well the Sorento sells and the Telluride seems to be going down here, I imagine we will see the Kia Mohave listed on the release schedule at some point early next year.
In the meantime,
Grimsby Kia
, 435 South Service Road Grimsby, ON L3M 4E8 has new Sorento and other Kia cars at some exceptional prices. Check them out!