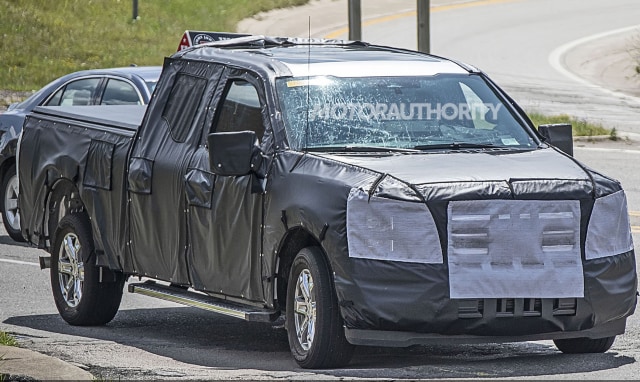 What is thought to be the 2021 Ford F-150 has been spied out testing on the road. While heavily camouflaged, we still get to see the overall shape and size of the new
Ford
truck and have a fairly good idea of what to expect in the next generation.
The current design was introduced four years ago and while refined and updated since then, it was due a rethink. I love the current design but modern buyer's tastes move fast so automakers have to constantly innovate to remain relevant. After making a success of aluminium and proving beyond doubt that the F-150 is the king of light trucks, what's next for the 2021 Ford F-150?
We can obviously tell only so much from a heavily camouflaged vehicle but there are a few clues as to what to expect. First, the front end looks very similar but the lights look to have been modified to give a new look. The cab also seems a little longer. The current cab isn't small by any means but more passenger room always goes down well.
We also see what look like different side mirrors under heavier camouflage than the rest of the truck and a rooftop spoiler type construction.
An interior spy shot shows a digital readout on the dashboard, telling us that the rumours about a dashboard redesign may be true. We had heard that the F-150 will be getting a new dashboard with new instruments, new centre stack, new materials and new controls. This could be it although we cannot see for sure.
We still don't know anything about the drivetrain. It is likely that EcoBoost models will remain, that we will still have diesels because of their towing potential and the mild hybrid at some point. There are rumours of a replacement for the 5.0-litre V8 but nothing has been substantiated yet.
The mild hybrid is thought to be the same engine being planned for the Ford Explorer. A 3.0-litre EcoBoost V6 with an electric motor and batteries to add an extra 100 hp to final drive. That has yet to be confirmed though.

It is likely that the 10 speed automatic transmission and current suspension setup will remain largely intact as both still perform exceptionally well.
We expect to see this 2021 Ford F-150 as a 2020 model sometime next year. There has been no publication of a timetable yet so we will keep our ear to the ground to see what we can learn.
In the meantime, the current 2019 Ford F-150 is still the top truck to buy. Visit
Northway Ford Lincoln
, 388 King George Road Brantford ON N3S 3N2 to see it up close.