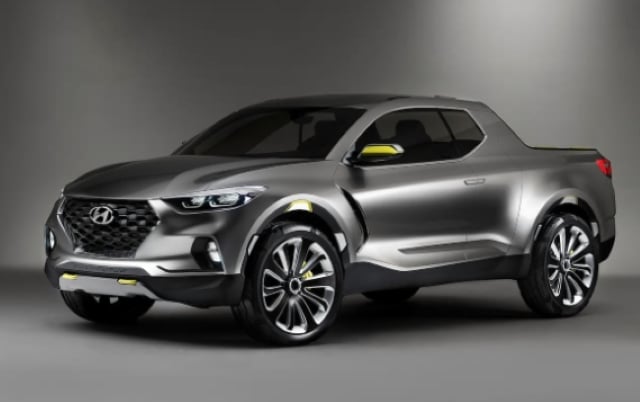 Rumours have been appearing with some regularity over the past couple of months that
Kia
may be developing a pickup truck. Then last week Kia Australia confirmed the Korean automaker was working on a truck version alongside sister company Hyundai.
Damien Meredith, the chief operating officer of Kia's Australian division, said as much in an interview with Australian website CarsGuide. He said; 'Work has begun. We're talking about a dual-cab, a single-cab; what we've requested is the full gambit for the ute, and that includes a dual-cab with diesel and petrol options.'
The ute is an exceptionally popular Australian platform that uses the front end of a sedan with a truck-like rear. A middle ground between sedan and pickup truck.
This new Kia truck will not be a 'lifestyle vehicle' Meredith says further into the interview. That implies a full truck with the ability to haul and tow or a fully-fledged off roader with rough running capabilities instead of hauling. Unfortunately, details are thin on the ground right now.
Earlier rumours had Kia aiming at the Ford Ranger, wanting to emulate its success. The light truck is much more accessible than something like the F-150 and the genuine success of the new Ranger has taken everyone by surprise. We knew it would be good and that it would sell well, but we didn't know just how good or how well it would sell. I cannot blame Kia or Hyundai or wanting a piece of that action.
So far, the only 'confirmation' that Kia is planning to build this truck is from Australia. Kia has not announced anything for other territories or said it will be a global model. That said, given that North America is one of the hottest truck markets in the world, it would be crazy to not try to sell it here if it does well in Australia.
The interview implies a 2022 or 2023 arrival for the Kia truck but doesn't say whether it will be a global model or territory specific. Neither was there any information about whether it would use the unibody platform Hyundai has developed or use a new body on frame platform closer to the Ranger.
On one hand, I could see it working in the U.S. or Canada as a funky truck with the appeal of a Soul. On the other, the market here is more about pure trucks than utes or fun trucks so I'm not sure how it would go down. I would certainly like to see it here in Canada but whether we will, we just don't know.
I'll keep an eye on the story to see how it develops. In the meantime, if you're in the market for a new Kia that's available right now, visit
Grimsby Kia
, 435 South Service Road Grimsby, ON L3M 4E8.