2016 Kia Rio 5 Door
Posted on August 23, 2015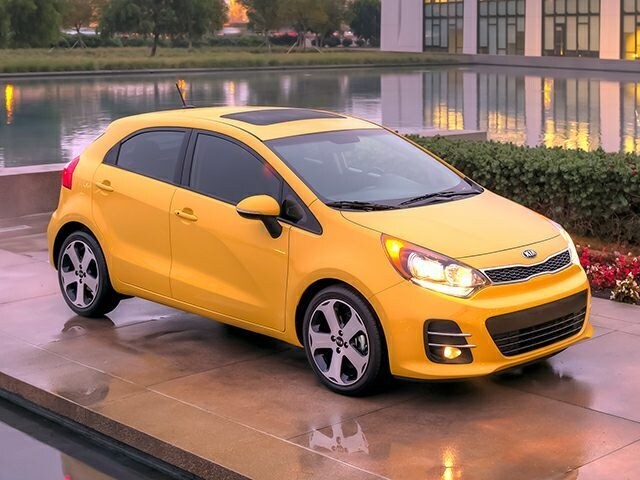 The 2016 Kia Rio 5 Door offers increased practicality with
the hatch shape alongside a nice design, lots of useable space, a great little
engine and a nice interior. As small cars go, the Rio is surprisingly spacious.
New for 2016 is a new look at the front and rear, a lower
and wider stance, a thinner tiger nose and a new fog light design. Inside,
there are more soft touch surfaces, more sound deadening material and new
interior trim.
2016 Kia Rio 5 Door design
The 2016 Kia Rio 5 Door has been revised slightly to include
those new exterior changes mentioned. The thinner tiger nose still looks the
part and moves the headlights a bit as a result. New fog lights and a new lower
grille are also new.
The hatch makes for a very nice profile in the Rio. The
front end is the same as the sedan, but the profile is shorter and more rounded
because of that hatch. A sloped roof flows directly into a curved rear end that
contains the hatch itself and the rear lights divided by the fifth door.
Inside, new upscale materials abound. As does new trim
elements. While the Rio is a small car, it certainly doesn't feel it once
you're inside. Passenger space is surprisingly generous while the cabin itself
shows a quality that belies its price.
Engine and transmission
The 2016 Kia Rio 5 Door uses the same 1.6-litre four
cylinder engine as the sedan. It produces 138 hp and 123 lb-ft of torque. A six
speed automatic transmission is standard that sends power to the front wheels.
The engine is very accomplished and propels the Rio forward
in a spritely manner wherever you are. Acceleration is smooth, engine noise is
minimal thanks to that increased insulation and the transmission is very
efficient. There doesn't seem to be any lack of power through the entire rev
range, which is the mark of a good engine and transmission pairing.
2016 Kia Rio 5 Door trims
There are three trim levels for the 2016 Kia Rio 5 Door, LX,
EX and SX. The Rio LX offers 15 inch wheels, heated side mirrors, multifunction
steering wheel, air conditioning, cloth interior, adjustable driver's seat, CD
audio with SiriusXM and USB input.
The EX trim adds 15 inch alloy wheels, fog lights, electric
windows and central locking, upgraded upholstery, leather steering wheel, CD
audio with Bluetooth and Active Echo System.
The SX trim adds 17 inch alloys, power folding side mirrors,
power sunroof, automatic lighting, LED lights, 7 inch touchscreen with Kia UVO,
reversing camera, smart key, paddle shifters, leather trim, heated front seats
and aluminium pedals.
The 2016 Kia Rio 5 Door adds practicality and utility to a
fun little car. With a good engine, a nice cabin and plenty of interior space,
there is plenty to like about it. Add decent levels of comfort and technology
and very competitive prices and you have a real contender on your hands.
Come see the 2016 Kia Rio 5 Door for yourself at Kia of Hamilton, 1885 Upper James St, Hamilton ON, L9B 1K8.